PATIENT SURVEY HIGHLIGHTS
My staff and I are committed to providing the most comfortable and informative experience possible.
When you meet with me in a consultation, we actively seek feedback so that we can continue to
improve. Below, review some of the opinions from patients who have met with me recently.
I am so appreciative of the large percentage of my new patients who have taken the time to fill out my
post-consult patient survey that I have proactively donated $1000 to Susan G. Komen. I am confident
participation in the survey will continue and wanted to "pay it forward." Thanks to you all for helping
me and my staff provide better care to future patients.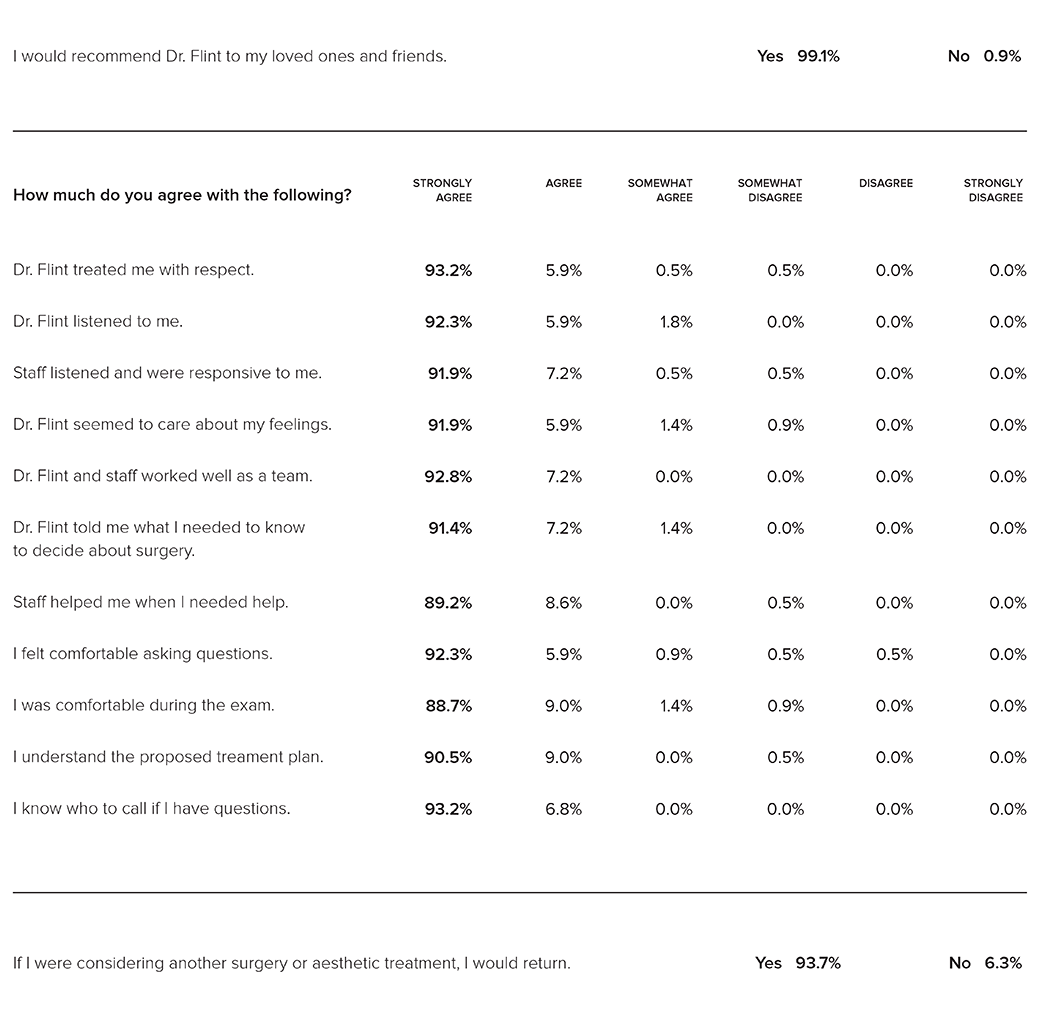 Tuesday, August 9, 2016 6:00 PM
I am absolutely satisfied with the results from my procedures. However, what I would like to tell you is the staff beginning with the front desk to the nurses to Dr. Flint herself are amazingly professional and courteous. I would never dream of seeking another doctor for any of my surgery needs. Dr. Flint's staff is so well informed and so very kind that it makes me look forward to arriving for my appointments!! How crazy is that??
Tuesday, February 23, 2016 9:50 AM
Joni was amazing. I really appreciated her kindness and professionalism throughout the process.
Wednesday, January 27, 2016 8:35 AM
The procedure I had done has truly changed my life. I feel better about myself and I can wear clothes I was never able to wear before. I appreciate that Dr. Flint takes the approach of wanting her patients to look natural when their procedures are done. The staff is courteous, professional and great to work with. I have and will continue to recommend Dr. Flint to others.
Thursday, January 21, 2016 4:31 PM
I was and am highly satisfied with Dr. Flint and her support staff. I have had a full body lift/abdominoplasty and a thigh lift. I am considering an arm lift and lower face lift. Dr. Flint's comparative higher costs with other surgeons in the Valley were worth it because of the trust relationship, her professionalism, results, etc.