MICRONEEDLING

IN SCOTTSDALE
Safe, effective skin resurfacing for all skin types
Sun damage, scars, wrinkles, and lax skin tone all can cause a person to look older than her age and are difficult to conceal with makeup. For a more practical, longer lasting solution, consider microneedling.
An excellent alternative to laser skin resurfacing for light or dark skin, microneedling can effectively reduce skin flaws by helping your skin naturally replace dull, damaged cells with younger, healthier cells. Just a few treatments can achieve fantastic improvements in tone, texture, and coloration with no downtime and virtually no risk of side effects.
How microneedling works
Microneedling treatments involve a pen-like instrument containing rows of very tiny, short needles on the tip, which make microscopic punctures in the skin's outer layers when applied to the skin's surface. These punctures are harmless, but create just enough of an "injury" to the skin to prompt the natural healing response, causing your skin to produce new collagen and elastin and accelerating cell turnover.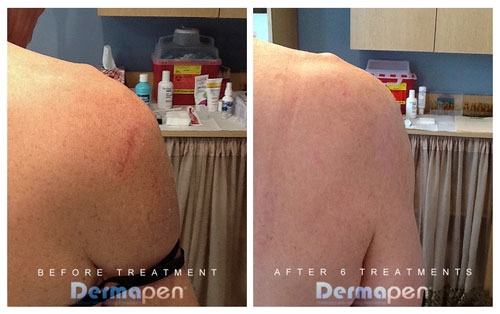 As a result, dull, damaged or discolored skin cells are gradually replaced with younger, healthier skin cells, helping to noticeably reduce skin blemishes and restore a smoother, clearer complexion. Microneedling can be a great option to rejuvenate the face, neck, chest, hands or other areas of the body.
What skin issues can microneedling treat?
Microneedling is a versatile skin resurfacing tool that we can use to treat a number of common skin complaints, including:
Fine lines and wrinkles
Sun damage and pigmentation problems
Stretch marks and scars
Aging hands
Lax skin on the face, neck or décolletage
Why choose microneedling?
Most skin resurfacing treatments work by removing outer layers of skin or by heating the deeper dermis to stimulate collagen production. These methods work but can require several days of downtime and are not suitable for every skin type or problem.
Because microneedling takes advantage of the body's natural healing mechanism to regenerate new cells without heat, chemicals, or abrasives, it is a very low-risk, effective skin resurfacing procedure for any age or skin type when performed by a qualified individual. No downtime is needed and results are evident within just a few weeks.
Dr. Flint has found microneedling to be particularly effective for reducing hyperpigmentation, diminishing fine lines, and improving skin tone.
What to expect with microneedling treatment
The first step is a personal consultation to discuss your concerns and determine the appropriate treatments for your skin type and goals. If it's determined that microneedling is the right option for you, you may be able to have your first treatment that day; however, a pre-treatment SkinCeuticals skin care protocol is recommended and can be very beneficial in maximizing your results.
Microneedling usually takes 30 to 60 minutes. A topical anesthetic may be applied to keep you comfortable as the microneedling device is passed over the skin.
No downtime is needed, although you may experience mild, temporary redness in the treated area for 1 to 2 days following treatment. You must practice good skin care to maintain your results; Dr. Flint and her staff at our SkinCeuticals Advanced Clinical Spa can help you design a personalized plan for optimal skin health.
Patients typically begin to notice improvements in skin tone, texture and appearance about 1 to 2 weeks after microneedling; further improvements continue as new cell growth and collagen production occurs. Optimal results are seen after a series of 3 to 6 microneedling treatments, spaced about 3 weeks apart.
Get started at a personal consultation
To learn more about microneedling and how treatments may help you get smoother, younger-looking skin, please contact us for a consultation with Dr. Flint or one of our experienced skin care professionals at Dr. Flint's Scottsdale or Mesa office.