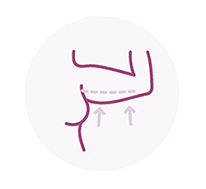 view the
before & after
gallery
ARM LIFT
Arm Lift at a Glance
As we age, our upper arm skin can become lax and flabby. This is especially true if you have lost a lot of weight. In the warm climate of Scottsdale, feeling embarrassed to wear sleeveless garments is a real problem. There is no way to tighten this skin other than to surgically remove the excess. In one short procedure, Mesa plastic surgeon Dr. Flint can expand your wardrobe choices and improve your self-confidence.
An arm lift, also known as a brachioplasty, is a surgical procedure designed to remove loose skin and excess fatty deposits in your upper arms. Depending on the amount of excess skin and fat, your scar may be contained within your armpit or may extend down the inside of your upper arm.
What to Expect
Your upper arm contour can be dramatically improved with this procedure. The scars fade over time and are disguised by their placement. In some cases, liposuction may be used alone or in conjunction with an arm lift to remove excess fat.
Preparing for an Arm Lift
During your Scottsdale arm lift consultation, Dr. Flint meets with you to determine which approach is best for you. She listens to your goals and then examines you. She explains the procedure and answers any questions you may have. Afterward, you will be given information regarding fees and an opportunity to select a date for your surgery if you feel ready.
Arm Lift Recovery
The procedure is performed under general anesthesia and takes approximately two hours to complete. You are allowed to return home approximately 90 minutes following the procedure. Ace wrap bandages remain in place for one week. You cannot do any lifting or exercise for three weeks. At three weeks, you also begin scar treatment with topical creams and silicone gel sheeting adhesive band-aids that you must wear at night for three months.