SCOTTSDALE
Broad Band Light Therapy
Reduce visible sun damage and clarify your complexion with broad band light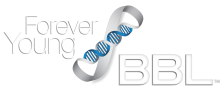 One of the nicest things about living in Arizona is the abundant sunshine we enjoy year-round. Unfortunately, all these sunny days can lead to visible sun damage, discoloration, and a patchy, uneven complexion. While only a high-quality skin care routine that includes daily application of broad spectrum SPF can help prevent these visible effects (and minimize skin cancer risk), there is something we can do to treat signs of sun damage and aging if they have already occurred: Forever Young BBL™.
Forever Young BBL treatments can help significantly reduce age spots, hyperpigmentation, and other types of skin discoloration with long-lasting results. Treatments at our SkinCeuticals Advanced Clinical Spa take less than one hour to perform and require no downtime.
    How Forever Young BBL works
BBL, or "broad band light" therapy, is a form of intense pulsed light (IPL) treatment. Unlike a laser, which uses a single, highly focused wavelength to treat the skin, BBL uses a broad spectrum of light wavelengths, delivered in brief bursts, which absorb certain shades of pigment (reds and browns). The Forever Young BBL platform from Sciton is one of the most powerful, effective broadband light options available.
BBL is particularly well suited to treating pigmentation problems, but can also be helpful in addressing other signs of aging. Issues we typically treat with BBL include:
Brown spots, freckles and age spots
Vascular lesions, redness and rosacea
Spider veins and broken capillaries
BBL can be used nearly anywhere on the face, hands or body and is safe for many skin types. However, since it affects pigmentation, it may not be suitable for all darker skin tones.
    Before & after 2 Forever Young BBL treatments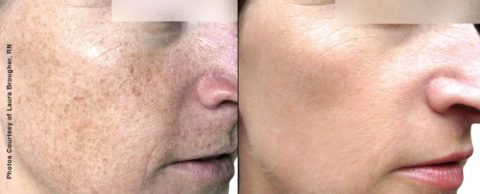 Photos courtesy Sciton, inc.
    What to expect with your BBL treatments
Before your first treatment, you will consult either with Dr. Flint or our licensed medical aesthetician to design a treatment plan that will address your skin's specific needs as safely and effectively as possible.
BBL treatments typically take 30 to 60 minute to complete and are performed in our SkinCeuticals Advanced Clinical Spa at Dr. Flint's Scottsdale office. A cooling gel will be applied to the treatment area, and we will give you special eye-wear to protect your eyes from the flashes of light. You will feel a brief snapping sensation with each pulse; most patients find this slightly uncomfortable but very tolerable.
You will need to keep the treated skin fully protected from sun exposure for several days after treatment with UPF clothing and/or a broad-spectrum sunscreen. Otherwise, you can return to your normal activity. Some patients experience an initial darkening of the skin, which resolves as the treated skin sloughs away over one to two weeks. Improvements are evident at this time and results will continue to improve with subsequent treatments.
    Before & after 2 Forever Young BBL treatments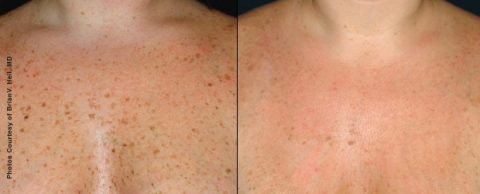 Photos courtesy Sciton, inc.
    How may BBL treatments will I need?
The number of treatments you may need depends on the specific issues you wish to address, the severity of these issues, and your personal goals with treatment. On average, patients require three to six treatments spaced 3 to 4 weeks apart, to achieve their desired results.
    Find out if BBL therapy is right for you
If you are interested in trying BBL treatments to improve your complexion, the best place to start is to schedule a consultation with an experienced skin care professional. Dr. Flint and our licensed medical aesthetician both offer one-on-one consultations in Scottsdale. Please call 480-945-3300 or contact us online to request your consultation.