PRIVATE. INTIMATE.
STATE-OF-THE-ART.
OUR FACILITIES
Dr. Flint's Scottsdale office is now located at Scottsdale McCormick Ranch Surgicenter (Scottsdale MRS), a brand new private surgery center and medical facility founded and developed by Dr. Flint to provide women and their families a place to receive the highest quality care in a private, intimate setting. Dr. Flint also has an office in Mesa for patient consultations and in-office treatments.
JCAHO accredited
Dr. Flint performs all plastic surgery procedures at the Surgicenter's on-site operating suite. This allows Dr. Flint to control the operating experience and ensure that patients enjoy the highest level of safety, expertise, and care in a quiet, intimate setting.
This state-of-the-art facility is fully accredited by the Joint Commission on Ambulatory Health Care Organizations (JCAHO), which requires the highest standards of any accrediting body. Anesthesia is provided by a board certified anesthesiologist, operating rooms are fully equipped to respond to medical emergencies, and support staff are qualified and experienced in plastic surgery patient care.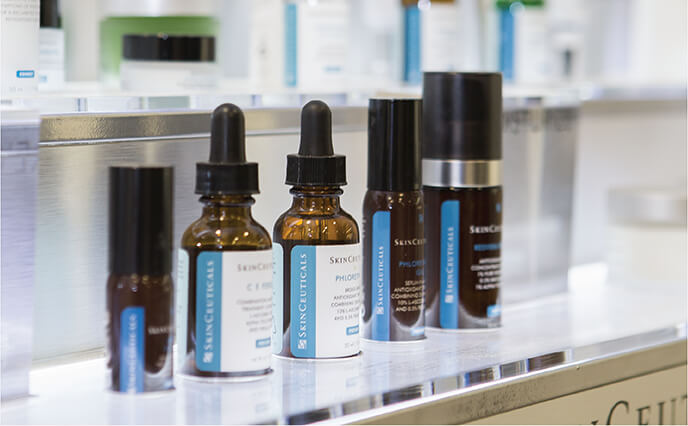 SkinCeuticals Advanced Clinical Spa
Dr. Flint is proud of her staff. "I carefully selected my staff because of their knowledge, experience, and dedication, but most importantly because they are compassionate people who really care about my patients. They are also conscientious about the service they provide. Whether you need a question answered, help with travel arrangements, or just a hug, my staff members are there both before and after surgery to lend a hand."
Advancing women in medicine and patient care in Arizona
In addition to being home to Dr. Flint's practice, Scottsdale MRS is the area's first surgical center to focus on the needs of women and their families while aiming to advance women in medicine. Female surgeons in a variety of sub-specialties will utilize Scottsdale MRS to provide exceptional surgical care and services to their patients.