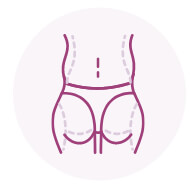 view the
before & after
gallery
BODY LIFT
DEFY GRAVITY
A body lift can remove excess skin and fat from your lower torso (abdomen, outer thighs, and buttocks) at the same time. The results can be life-changing, which is one of the reasons Dr. Flint enjoys performing this procedure. If you have lost weight and are frustrated with the excess skin you are left with, schedule a consultation with Dr. Flint.
WHAT IS A BODY LIFT?
To remove excess skin and fat from your abdominal wall, outer thighs, and buttocks, Dr. Flint makes an incision that courses low across your abdomen around to above your buttocks and continues across your lower back. Body lifts are designed to improve the overall shape of your abdomen, thighs, and buttocks. Excess fat and skin are removed and the underlying muscles of the abdominal wall are tightened, resulting in a flat abdomen. This procedure is often combined with liposuction of other areas.
PREPARATION
Dr. Flint meets with you to let you share your goals. Then she examines you and discusses the procedure at length. You get a chance to review Dr. Flint's work via before and after photos of past patients, and all of your questions are answered. You are given information regarding fees and an opportunity to select a date for your surgery if you so desire.
Most patients return to work after two weeks, although swelling may persist for four to eight weeks.
RECOVERY
The procedure takes between three and four hours, depending on your size and the amount of skin and fat to be excised. General anesthesia is given. You are kept overnight for one or two nights in the recovery care center before you are allowed to return home. Discomfort is controlled with pain pills and muscle relaxants. Drainage tubes remain in place for approximately five days and are removed in the office. You can shower two days after the drainage tubes are removed. No lifting is allowed for six weeks. The results are generally very dramatic and satisfying.