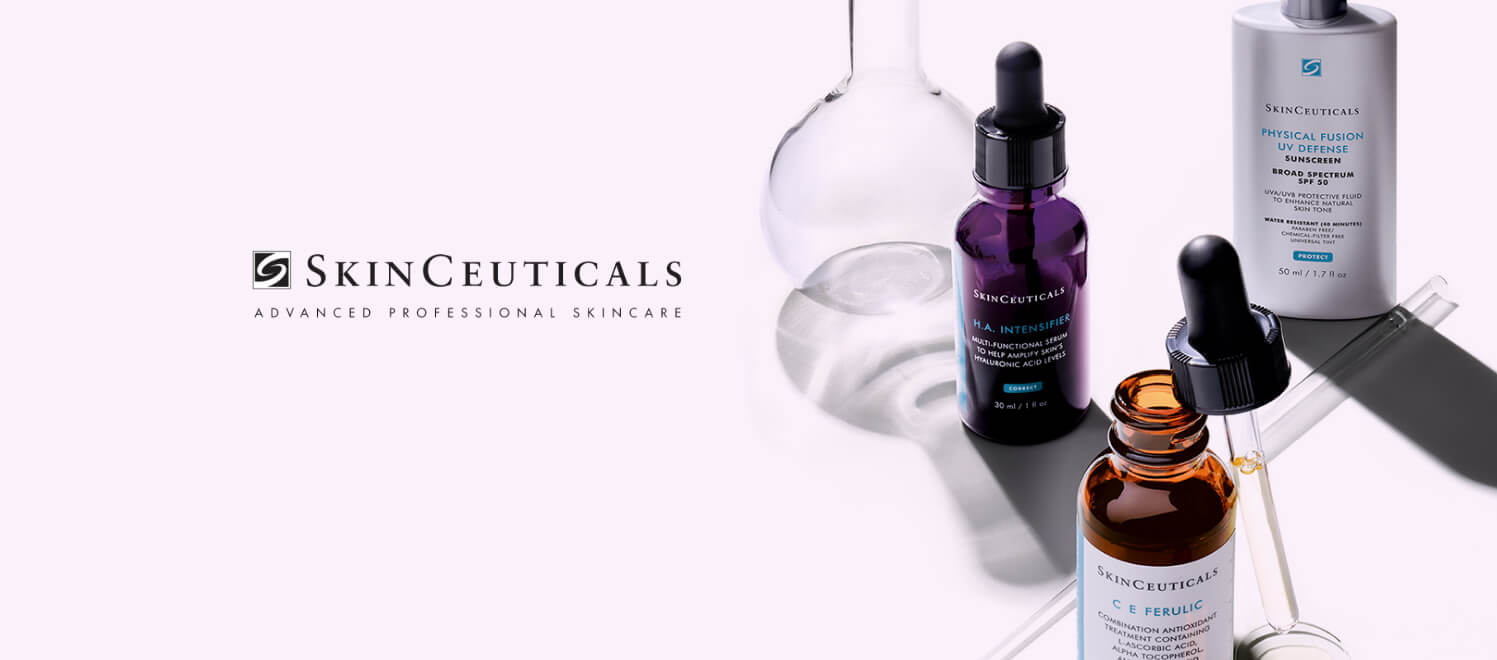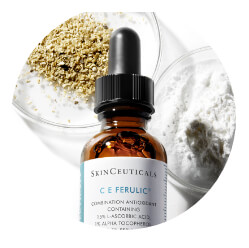 SKINCEUTICALS Advanced
Clinical Spa
There are plenty of clinical skin care lines available in Scottsdale and Mesa; it can be difficult to know which ones will deliver on their promises. Dr. Flint's goal for each of her patients is to provide the most effective skin care treatments with the longest-lasting results possible. In her experience, SkinCeuticals' prescription-strength, scientifically tested formulas offer the most consistent, predictable, and satisfying outcomes.
SkinCeuticals formulas are based on decades of medical research. Only available through a licensed medical doctor or board certified plastic surgeon, SkinCeuticals can help patients of any skin type or age get healthier, more radiant skin.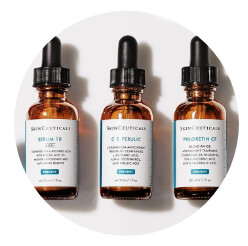 SKINCEUTICALS solutions
SkinCeuticals in-office treatments and at-home skin care products can address a variety of concerns, including:
ANTI-AGING LIP, EYE & FACE CARE
HYPERPIGMENTATION & DISCOLORATION CONTROL
MOISTURIZING & HYDRATION FOR DRY SKIN
SUN DAMAGE CORRECTION & PREVENTION
POST-OPERATIVE REGIMENS TO SPEED HEALING
ANTIOXIDANT SERUMS TO PREVENT PREMATURE AGING AND PREVENT SKIN CANCER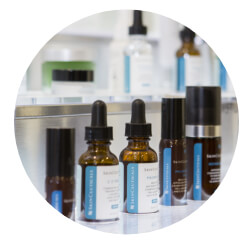 our history together
In 2014, SkinCeuticals began partnering with select physicians worldwide to provide integrated medical skin care through its exclusive SkinCeuticals Advanced Clinical Spa program.
Dr. Patti Flint's practice was one of the first plastic surgery practices in the nation to be selected as a SkinCeuticals Advanced Clinical Spa location, giving our patients access to personalized treatment programs combining cutting-edge skin care technology and medical expertise in a premium setting, including:
Individualized aesthetic and medical skin care that Integrates clinically proven products and medical procedures for superb, lasting results.
Innovative, comprehensive treatment plans to protect skin health, prevent future damage, and improve appearance.
At-home skin care with proven efficacy according to the highest international standards.
On-going personalized coaching and education provided by dr. Flint and her licensed aesthetician to allow patients to obtain the most benefit possible from their skin care regimen
skin health at 3 key levels
Effective skin care involves more than just putting on moisturizer or sunscreen. SkinCeuticals incorporates all important facets of skin health in its skin care systems:
PREVENT PREMATURE AGING
Slowing visible aging helps to postpone the need for surgery and helps you maintain a youthful look much longer. SkinCeuticals Vitamin C and antioxidant serums help to combat damaging free-radicals in the skin and keep age spots, wrinkles, and texture problems at bay.
PROTECT SKIN FROM SUN DAMAGE
Sun damage is a year-round threat, especially here in the Arizona desert, but not all sunscreen is up to par. SkinCeuticals' medical-grade, broad-spectrum sunscreens are tailored to offer optimal protection for a variety of skin types and needs.
CORRECT VISIBLE SKIN AGING
Eventually, signs of aging appear and lead to a dull, tired-looking complexion. Using prescription-strength ingredients, SkinCeuticals corrective formulas can help minimize fine lines, reduce acne and discoloration, and help replenish the skin's youthful firmness and glow.