Non-surgical chin fat reduction with lasting results
Millions of men and women who are generally happy with their appearance look in the mirror each day and fixate on one thing: a double chin. Even a small amount of excess fat beneath the chin can cause the neck to appear unnaturally full and the jawline to lack definition. While this is typically an inherited trait, it is nonetheless bothersome to many patients who feel frustrated that a healthy diet and exercise haven't helped.
Kybella® offers a non-surgical solution to reduce a double chin and refine jawline contours. This injectable treatment selectively destroys fat cells in the area, achieving long-lasting fat reduction without surgery and with very little, if any downtime.
How Kybella works to reduce a double chin
Kybella is an FDA-approved injectable medication containing deoxycholic acid, a substance already present in the body that plays a role in fat metabolism. When injected directly into a fat deposit the beneath the chin, the deoxycholic acid in Kybella breaks down individual fat cells, causing a double chin to gradually shrink as your body metabolizes the affected cells.
These removed fat cells do not grow back, and results will last for many years, as long as you maintain a stable weight.
Why choose Kybella?
Recently, a number of non-surgical fat reduction options have come onto the market, with varying degrees of success. In Dr. Flint's opinion, Kybella offers the highest level of safety, effectiveness, predictability, and patient satisfaction of these options. Studies have shown that Kybella effectively reduces submental fat with very little incidence of serious side effects.
Of course, great Kybella results depend on having an appropriately trained, experienced provider. To ensure your safety and optimal results, Dr. Flint personally performs all injectable treatments, include Kybella, at her Scottsdale and Mesa offices. Her training and skill as a board certified plastic surgeon, as well as her in-depth knowledge of facial anatomy, allow her to administer injections safely and precisely to achieve the best possible results for each patient.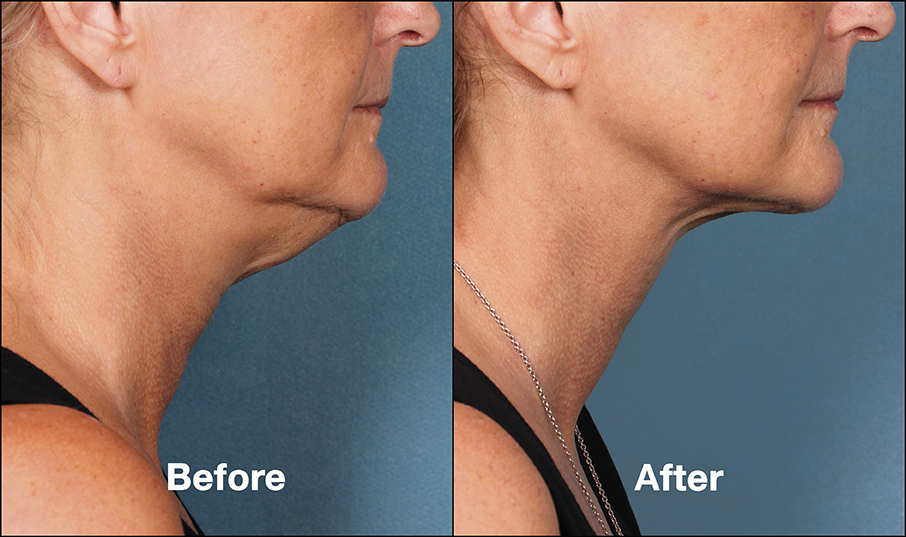 Before and after Kybella injections. Photos courtesy Allergan, inc.
What to expect with Kybella injections?
First you will meet with Dr. Flint to discuss your concerns and determine whether Kybella or another procedure is most appropriate for your needs. If and when you are ready to move forward with Kybella injections, Dr. Flint will cleanse the skin beneath your chin and along the neck and mark the precise points where she will inject Kybella.
You will receive multiple injections per treatment, which take about 20 minutes to complete. Temporary, mild bruising, swelling, and numbness along the neck are the most common side effects of treatment. These effects typically resolve within one to two weeks after treatment. Downtime is minimal; some patients take a long weekend to allow post-procedure tenderness to settle, while others feel ready to return to daily activity within a few hours.
When will I see results?
Kybella gets to work immediately, but it takes your body time to metabolize the affected cells. Post-procedure swelling can also obscure final results for a little while. Typically, patients notice improvements within one month after their first treatment, and are satisfied with their final results after two to three treatments, spaced 4 to 6 weeks apart.
Get started at a personal consultation
We are excited to offer this effective, non-surgical alternative to liposuction for patients to reduce fat beneath the chin. If you are interested in Kybella treatments, we invite you to contact us today to schedule your personal consultation with board certified plastic surgeon Dr. Patti Flint.