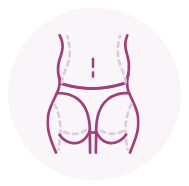 view the
before & after
gallery
THIGH LIFT
SLIM & TIGHTEN
A thigh lift is a cosmetic surgery procedure to remove loose skin and excess fatty deposits in your upper inner thigh through an incision in your groin crease. Liposuction of this and other areas are commonly performed in conjunction. If you have experienced massive weight loss and are left with excess skin that extends down to your knee, a vertical incision from your groin to your knee along the inner surface of your thigh may be needed.
If you also suffer from laxity in your outer thigh, Dr. Flint may recommend a body lift procedure instead of a thigh lift. Only by coming in to see Dr. Flint in a consultation at her Scottsdale or Mesa office can you know which procedure is right for you.
WHAT TO EXPECT
This procedure results in thinner thighs without the saggy excess skin in your inner thigh. You should experience an improved ease of movement after a thigh lift. These results are permanent and can be dramatic. In some cases, liposuction is used to treat related problem areas in conjunction with a thigh lift. Liposuction removes excess fat in your upper thighs just prior to removing the excess skin.
PREPARATION
During your consultation, Dr. Flint listens to your goals and then examines you to determine which approach is best for you. She explains the chosen procedure with you and answers any questions you may have. You are given information regarding fees and an opportunity to select a date for your surgery if you are ready to do so.
RECOVERY
The thigh lift in Scottsdale is performed under general anesthesia and takes approximately two hours. You are allowed to return home approximately 90 minutes following the procedure, but an overnight stay in the attached facility is available if desired. You need to be up and walking the night of the procedure, but more strenuous exercise is not allowed for four weeks. Most patients return to work within two weeks. The scars are well hidden in the groin crease and fade nicely over about one year.