It is rare for a patient to come in for a consultation without asking, "how long will my recovery take?" You may be surprised to learn there are two different answers to this question for each patient, and both are correct.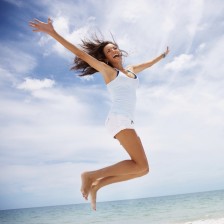 Cosmetic surgery is unique in that recovery is measured in both medical and aesthetic terms. General surgeons typically consider a patient healed when normal activity, including strenuous exercise, no longer poses a risk to the patient's health or results. However, though plastic surgery results often look good by the time you resume your usual routine, they will continue to evolve after your incisions have healed. Thus, to better understand plastic surgery recovery, think of it as having two timelines: one for healing, and one in which your results take shape.
Consider the following recovery timelines for a few of the most popular cosmetic procedures:
Facelift Surgery
Two to three weeks to heal
Six to eight weeks to be event-ready
Six months to final results
For healthy non-smoking patients, initial facelift surgery recovery can be relatively quick. Most patients are off pain medication after just a few days and back to light daily activity (e.g., walking, driving, shopping) in a week or so. Exercise can be resumed after three to four weeks. Any external sutures will be removed within two weeks after surgery, and then, with your surgeon's approval, it is acceptable to wear camouflage makeup to conceal any remnants of bruising.
Typically, facelift patients feel confident going out in public by this time, as only minor swelling remains. However, to look your best for an event, it is best to allow at least eight weeks between the surgery and event dates.
At eight weeks, bruising will be completely resolved, swelling will not be noticeable to others, and you will be enjoying a refreshed appearance. That said, if you are planning your facelift ahead of a key life event such as a wedding, reunion, or photoshoot, it is safest to plan your surgery twelve weeks ahead.
Facelift results will continue to subtly improve for another 6 months or more. Some patients say they still experience a vague numb or "tight" sensation during this period. This is normal and will gradually fade away within a year.
Liposuction
Two weeks to heal
Three weeks to be in swimsuit shape
Three to four months for final results
How long it takes to heal after liposuction largely depends on the areas where liposuction is performed, how much fat is taken away, and a patient's individual rate of healing. However, incisions are typically healed enough to gradually resume exercise about three weeks after surgery. Most patients return to work before that, experiencing only minor soreness.
You may see good improvement in your shape immediately after liposuction, but this can be followed by a noticeable increase in swelling. This is normal and tends to peak after a few days before dramatically decreasing. Do not become discouraged if it seems like your results are backtracking in the first week, as this is part of the process, but do keep your surgeon's office apprised of any unexpected changes.
Wearing compression garments as prescribed by your surgeon will help control postoperative swelling and bruising, facilitate healing, and help ensure you see optimal results as soon as possible.
After two or three weeks, most of the swelling will be gone, and you should see enough improvement to feel excited about wearing more form-fitting clothing. Still, it can take three months or more for the last of the swelling to dissipate and your skin to confirm to your new, slimmer shape.
Breast Augmentation
One week to heal
Three weeks to be bikini-ready
Six months for final results
Patients are often pleasantly surprised at how quickly they can resume normal, light activities after breast augmentation surgery. While some soreness and tightness in the chest and arms is to be expected, most patients do not require pain medication after the first few days, and many return to office work within the first week. As with any procedure, you will need to wait until newly healed tissues become strong enough to provide support and fend off infection before resuming lifting and strenuous exercise. This typically takes at least one month.
While you will notice an immediate improvement in your breast contour, the final results of breast augmentation surgery will evolve over a three to six month period. Initially, your breasts will feel somewhat firm. After three to six weeks, the breasts will have softened and relaxed into a more natural position as swelling goes down and the implants settle into position.
While patients are typically thrilled with their new breast shape by this time, the settling process will continue for up to six months. I recommend waiting at least three months before investing in higher-end lingerie to ensure it will fit and flatter once your breasts have fully settled.
Tips for Optimizing Your Recovery and Results
Whichever plastic surgery procedure you are considering, there are a few things you can do to enjoy optimal results as soon as possible:
Choose your surgeon wisely. A surgeon's techniques greatly contribute to a smooth, comfortable, and timely recovery, as well as beautiful results. Make sure your surgeon is board certified in plastic surgery and the procedure you want is a significant part of his or her practice.
Follow your surgeon's instructions. I cannot stress enough the importance of communicating openly with your surgeon or patient care coordinator and following all pre- and post operative care instructions. Adequate rest and incision care after surgery is imperative to the healing process. Even movements that do not involve the surgical area can strain healing incisions, risk internal bleeding, and compromise your results.
Keep your scars out of the sun. Wear UPF clothing and a broad-spectrum sunscreen whenever you go outside to prevent scars from darkening unnecessarily.
Understanding the recovery process is essential for anyone considering cosmetic surgery. By taking into account the time it takes for optimal results to appear, and the time you will need to rest and recover, you will be well on your way to success in achieving the look you want.

Tags: breast augmentation recovery, facelift recovery, plastic surgery recovery, liposuction recovery


Categorized in: Facelift, Our Practice, Liposuction, Breast Augmentation