The skincare industry is huge. Hundreds of products line drugstore and department store shelves, each promising to deliver more youthful, radiant skin. It can be difficult to know what you really need to keep your skin healthy, much less which products live up to their claims.
While an effective anti-aging skin care program should be multifaceted and personalized to an individual's skin type and conditions, and SPF should never be neglected, science has proven one product to be essential for skin health, which I believe everyone should include in their skin care routine: antioxidants.
What are antioxidants?
Sun exposure, smoking, and other environmental stressors cause molecules called "free radicals" to build up in the body. These unstable particles are missing an electron and will grab one from the most easily available source. Your body naturally takes care of free radicals in small amounts, but when free radicals overwhelm the system (a situation called oxidative stress), they will will grab electrons from your cells, leading to DNA damage, premature aging, and even skin cancer.
Antioxidants are substances that you can give to your body to "feed" the free radicals, neutralizing them so they don't harm your cells. This reduces oxidative stress, slows the aging process, and helps keep your cells healthy.
Why are antioxidants so important for skin care?
While free radicals affect cells throughout the body, damage is particularly acute and visible in the skin, which is most exposed to environmental factors such as UV radiation, ground ozone, and other pollutants. Antioxidants are uniquely equipped to counteract this damage:
Given this information and my experience using antioxidants to help patients improve their skin, I believe that antioxidants are one of the most important components of your skin health regime.
Which antioxidants should I be using?
Countless over-the-counter products claim to contain antioxidants, but unfortunately, most don't have the appropriate formulation or adequate dose to make any difference.
SkinCeuticals' patented antioxidant formulas are based on decades of clinical research, and are scientifically proven to neutralize free radicals and improve skin health.
Decades of research have shown that out of 100s of antioxidants, only a few, including Vitamins C and E and phloretin, can be absorbed by the skin and effectively neutralize free radicals. These must be delivered in a certain concentration and pH (acidity) to be effective. SkinCeuticals' patented antioxidant formulas are based on this research, and are scientifically proven to deliver optimal benefits.
SkinCeuticals offers several antioxidant formulas to help different skin types and conditions. The following are popular options I recommend for many of my  patients.
C E Ferulic Serum: powerful protection & anti-aging for normal, dry or sensitive skin

C E Ferulic is a highly effective antioxidant that is suitable for most skin types. Its exclusive Vitamin C & E formula is accompanied by ferulic acid, which enhances its protective properties. Using just three drops per day can help you:
Improve skin texture and brightness
Reduce visible fine lines & firm skin
Increase the effectiveness of your sunscreen
Protect against ozone-related aging
Phloretin CF: improves cell turnover for healthier, more balanced skin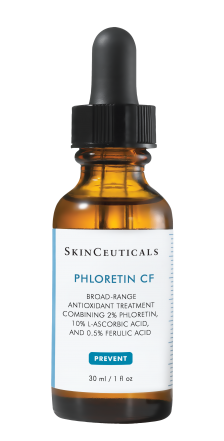 One of SkinCeuticals' newer developments includes the powerful plant antioxidant phloretin, which has been shown to improve healthy cell turnover and even revert pre-cancerous cells back to normal cells. I typically recommend Phloretin CF for patients with more advanced sun damage as well as those who are bothered by hyperpigmentation. It's available in both a serum and gel form.
Reservatrol B E: improves skin firmness and fortifies natural protection against sun damage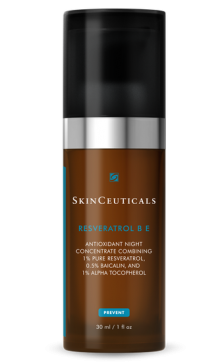 Many of my patients are primarily interested in reversing visible signs of aging, but still need adequate protection against free radical damage. A night-time serum, Reservatrol B E, has proven to be a good option for these patients. Containing a potent combination of reservatrol and Vitamin E, it delivers strong antioxidant protection while plumping the skin for a firmer, more youthful appearance.
How do you know which antioxidant is right for you?
Determining the optimal at-home regimen for achieving healthy, beautiful skin requires professional knowledge. Work with a board certified plastic surgeon or dermatologist. As one of the first practices to be designated as a SkinCeuticals Advanced Clinical Spa, my skin care team and I spend a great deal of time helping patients design effective at-home skin care regimes. I welcome you to contact my Scottsdale or Mesa office to schedule a personal skin evaluation and consultation. I look forward to helping you experience the benefits of antioxidants for your skin.

Tags: Dr. Patti Flint, scottsdale skincare, skinceuticals skincare products, antioxidant products, scottsdale plastic surgeon


Categorized in: Skin Care, Non-surgical Procedures