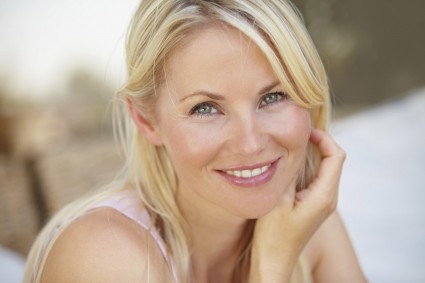 Have you considered facial rejuvenation treatments but worry that the results won't look natural? If you are having a hard time pinpointing exactly what treatment you should choose to look younger, healthier, or better refreshed, you are not alone.
The truth is, facial aging is a complex process, and finding the right solution often means finding the right combination of treatments rather than focusing on a single procedure.
Aging generally affects the face on three different levels.
On the surface, skin irregularities (e.g., brown spots, roughness, and fine lines) begin to show.
Skin also becomes thinner and less elastic with age, causing wrinkles and folds to appear.
Finally, underlying facial tissues may begin to stretch and sag, resulting in jowling or a shapeless look to the neck.
Adding to the complexity is the uniqueness of every person's anatomy and personality. We each age at a different rate, show signs of aging in different ways, and are bothered more by certain signs of aging than others.
Just as there is no single way in which a person ages, there is no single procedure that can correct everything at once. I like to combine a number of different treatments to achieve facial rejuvenation; each targeting and correcting a specific sign of aging. When used together, these treatments can help restore a naturally refreshed and vibrant appearance that meets an individual's aesthetic goals.
I favor combination facial procedures for my patients, not because I believe more is better, but because better is better. In my experience, strategically pairing treatments to address facial aging on multiple levels creates the most natural, lasting results possible.
Achieving total facial rejuvenation does not mean receiving every treatment in the toolbox. The goal is to select just the right set of "tools" to get the job done:
The youthful face you remember with smoother, healthier skin to match.
A surgical facelift remains the best option to restore facial tissues to a more youthful position and correct jowling or a loose, heavily wrinkled appearance to the neck. However, if your skin is marked by brown spots, fine lines, and roughness, even an expertly performed facelift won't provide the fullest benefit possible. Rather than stretching the skin excessively in an attempt to smooth wrinkles (which results in the tell-tale "pulled" or distorted appearance associated with poorly performed facelifts), I rely on two other techniques. A chemical peel helps me to match your skin's surface with the more youthful profile provided by a facelift. Secondly, strategically placed dermal filler injections can restore fullness and soften creases while allowing the skin to rest in a natural position.
Restore a better refreshed or happier appearance to your eyes.
Did you know that the upper one-third of your face communicates more about how you feel than nearly any other feature? Blepharoplasty, or cosmetic eyelid surgery, can correct puffy or tired-looking eyes by removing excess, sagging skin or fat. I can then use BOTOX® injections to enhance the results by softening prominent brow furrows or frown lines between the eyes. The result is a more open, yet naturally relaxed, appearance to the eyes that better reflects your vibrant self.
Reduce telltale signs of aging (and take a few years off your appearance) without surgery.
Are you primarily bothered by wrinkles, fine lines, or a "hollowed" appearance to your cheeks? As these signs of aging are a result of changes just beneath the skin, a nonsurgical treatment plan combining injectables, chemical peels, and/or topical skincare can typically achieve beautiful results with little downtime. For example, I might use Juvéderm® filler to soften creases around the nose and mouth and apply a chemical peel to reduce fine lines around the lips for a more thorough effect.

These are just a few examples of the ways treatments can be coupled to create a more aesthetically pleasing overall result. If you are unhappy with the way aging has affected your appearance, please call my office. At your consultation, I will listen carefully to understand what concerns you have and what improvements you would like to see. Based on this assessment, I can devise a personalized treatment plan that will help you look younger, more refined, and, most importantly, naturally refreshed.

Tags: plastic surgery blog, board certified plastic surgeon, arizona plastic surgeon, botox phoenix, plastic surgery procedures, Dr. Patti Flint, skin-tightening procedures, scottsdale skin care, arizona skin care, facelift scottsdale, facelift mesa, skin care scottsdale


Categorized in: Non-surgical Procedures, Skin Care