BOTOX® Cosmetic Scottsdale
Black Diamond BOTOX Provider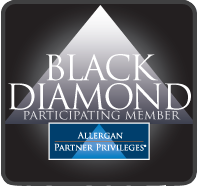 Dr. Flint has been recognized by Allergan as a Black Diamond provider and is in the top 1% of all practices nationwide to use Allergan products, including BOTOX. When you choose Dr. Flint for your BOTOX injections, you are choosing experience, knowledge, and an expert touch.
Many men and women develop creases, furrows, or wrinkles in their forehead or between their eyebrows that make them look angry. In this area of the face, BOTOX® treatments can be an excellent option. It works by preventing the muscle behind the wrinkle, deep in the skin, from working so hard, making the wrinkle appear deeper. When BOTOX® is injected into the muscle by an experienced expert, it does not result in an unnatural appearance.
BOTOX® Cosmetic can be used judiciously in other areas of the face as well. If you feel too much of your upper teeth or gums show when you smile, BOTOX® can relax your upper lip. If you feel your chin looks bunched up when you speak, it can relax the muscles around your chin that cause that. Crow's feet—or the fine lines on the outside of your eyes—are another common target.
When Dr. Flint meets with you in consultation regarding concerns about facial aging, she thoroughly evaluates the areas of your concern, but also performs a complete history and exam to allow her to develop a specific program for you going forward, not only to accomplish the goals at hand, but to help preserve your results in the future. It is most common for her to recommend a combination of skin care, fillers, peels, BOTOX®, and surgery. Not every patient needs every treatment, of course, and many patients choose to spread out their program over months or years. Dr. Flint wants to maintain a long-term relationship with you so she can continue to evaluate and recommend the appropriate treatment at the appropriate time as your aging process progresses.
BOTOX® Injections at a Glance
Injecting BOTOX® into the furrows or wrinkles of your face diminishes their appearance.
What to Expect
This procedure can be done in the office without anesthesia or sedation with very minimal discomfort. It takes approximately 20 to 30 minutes. Dr. Flint performs all of the injections herself.
Preparing for BOTOX®
Dr. Flint listens to your goals and examines you to determine if BOTOX® is right for you. She will design a plan especially for you. Injections can be provided on the day of consultation, although you must avoid anti-inflammatory agents such as aspirin and ibuprophen one week prior to your treatment to avoid bruising.
BOTOX® Recovery in Scottsdale
Some minimal bruising or swelling is normal. The maximum effect is noted eight days following treatment. Dr. Flint likes to see her patients back a week after treatment to see if a touch-up would be beneficial. The effect can last several months.