Dr. Flint is sharing her plastic surgery expertise with local Arizona viewers in an ongoing series of articles and video segments for ABC 15's Sonoran Living Live. The series will provide insight into some of the most common cosmetic procedures.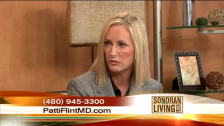 During her first segment, Dr. Flint discussed how facial rejuvenation can be personalized to suit the unique anatomy and goals of each patient. Dr. Flint uses both surgical and nonsurgical treatments to provide natural results and restore a youthful appearance.
"We have many different tools available to help people look better," Dr. Flint says. "When we first meet with patients, I like to listen to their goals and design a plan that is going to suit their desired outcomes." Read the article and watch the full video.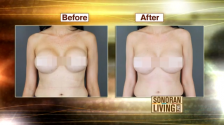 Dr. Flint's second appearance was focused on clearing confusion about breast implants. Covering questions on implant material, size, location, and incision options, Dr. Flint provided a comprehensive overview on how breast augmentation can be personalized for each patient. "I think educating patients about what their options are is vitally important," states Dr. Flint. "Taking the time to listen to them really allows me to guide them in the right direction." Watch Dr. Flint's second appearance.

For her third appearance, Dr. Flint reviewed before and after photos of real tummy tuck and liposuction patients to demonstrate how these procedures can correct different issues. She emphasized how the most appropriate choice is dependent upon a patient's concerns and desired results. "You need to visit a board certified plastic surgeon to determine which procedure is right for your goals," Dr. Flint emphasizes. Watch the full video.

In the fourth segment, Dr. Flint covered the combination of procedures that make up a "mommy makeover." While reviewing before and after photos of her patients, Dr. Flint discussed typical mommy makeover procedures, such as tummy tuck and breast lift with augmentation, and what these surgeries can achieve. Find out more about mommy makeovers by watching the full video.

Dr. Flint visited Sonoran Living Live in early January to explain the toll that sagging, loose skin around the eyes can have on a person's appearance. She outlined her approach to eyelid rejuvenation, which often involves a combination of surgical procedures and non-surgical treatments to provide a natural, youthful result. Read the article and watch the full video.

In Dr. Flint's sixth appearance, she highlighted the various surgical options available to help restore volume and shape to sagging or deflated breasts. Often using a combination of procedures, such as breast lift with breast augmentation, Dr. Flint is able to provide women with more shapely, youthful-looking breasts. Consulting with a board certified plastic surgeon, like Dr. Flint, can help determine if your goals can be achieved with breast augmentation, breast lift, or a combination of both. Watch the full video for more information.

In her seventh segment, Dr. Flint discusses revisionary breast implant surgery. Although complications from breast augmentation are rare and patient satisfaction with the procedure is very high, Dr. Flint occasionally receives requests to revise issues that arose from breast augmentations performed by previous surgeons. Read the article and watch the full video.

Dr. Patti Flint visited Sonoran Living Live in the most recent segment to explain to viewers the various options available for non-surgical facial rejuvenation. During a personal consultation, Dr. Flint will work with patients to determine whether BOTOX®, dermal fillers, or a combination treatment will achieve the desired results. For more information on non-surgical rejuvenation options, watch the full video.

Stay tuned for Dr. Flint's upcoming appearances on Sonoran Living Live.

Tags: arizona skin care, facelift scottsdale, arizona plastic surgeon, breast augmentation scottsdale, phoenix plastic surgeon, mesa breast augmentation, mesa plastic surgeon, skin care scottsdale, abc channel 15, sonoran living, botox scottsdale, board certified plastic surgeon, scottsdale non-invasive, Dr. Patti Flint


Categorized in: Local, Liposuction, Breast Lift, Breast Augmentation, Mommy Makeover, Our Practice, Tummy Tuck, Non-surgical Procedures