Testimonials for Dr. Patti Flint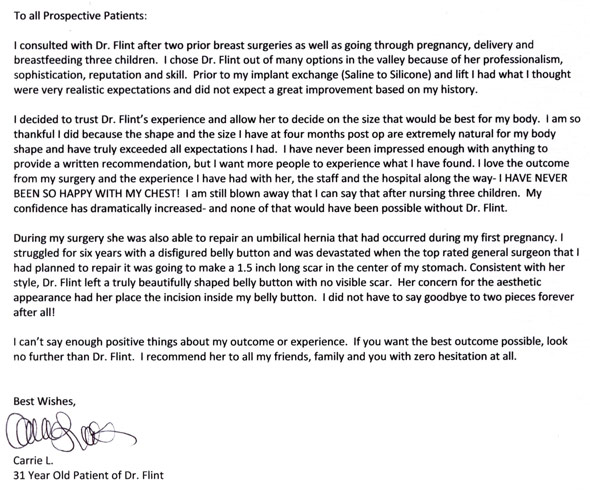 ---
"I just wanted to say thank you for the greatest experience of my life. It was difficult enough to decide on surgery, but after choosing Dr. Flint, I felt confident in my decision. The results are fantastic, and I am truly comfortable in my own body now. Not to mention I love buying new summer clothes already—it's only been four weeks after my breast augmentation surgery! I wish I would have had the surgery a long time ago. Thank you to Dr. Patti Flint and staff for my new beautiful breasts and confidence. I also sincerely appreciate the time you have spent with me. Your honesty is refreshing. And I have NEVER had a doctor respond to my concerns within hours! You are amazing. I wish the best for you and your staff. Until we meet again in 3 months.

"
---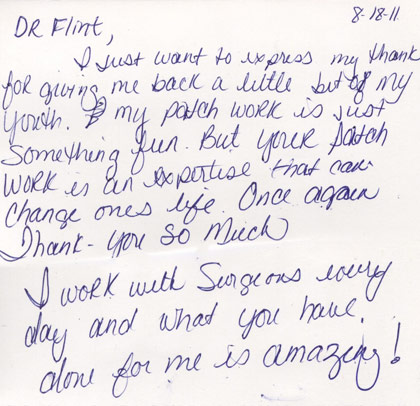 ---
"Dear Dr. Flint and Staff:
I want to express my sincere 'thank you' to all of you for the wonderful experience I have had over the past two years. My 'refreshed' facelift is so natural, and all that saggy skin on my face and neck are gone. I look and feel wonderful. My eyes seem to be the biggest change that people notice, and I can now wear eye shadow and actually see it. I feel rejuvenated and refreshed. Your team and skills are the reason.
After such a successful experience, I decided to do the tummy tuck, breast reduction, and a little lip seven months later. WOW!!! What a difference that has made in my look. No more extra skin from my extreme weight loss over the last two years. I would say you are a miracle worker, and I am so pleased with the results. Larry, my husband, is even more pleased. This was the best thing I have done for myself in 25 years.
I think the best way to say thank you is to say that I would do it again. After the successful 'refresh,' I knew I had selected the right doctor and the right team to make me 'new' again.
Thank you. I wish you continued success making all the ladies in Arizona beautiful.
Regards, Nancy"
---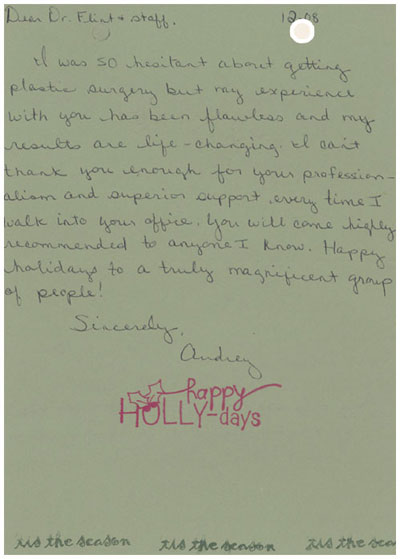 ---
"I just want to say how amazing it is to see the ear that I've lived with for 42 years, that was always sticking out, now looking like a normal ear. Anyhow, I wanted to send a note to say thanks so far. I know we still have some ways to go with the healing process. But please pass along a thanks to Dr. Flint when you get a chance. She made me feel pretty good tonight, like I had taken a positive action on something I had 'thought' about for so long. It's nice to know there are people that do what you guys do for a living: trying to make people feel better about themselves.
Ken"
---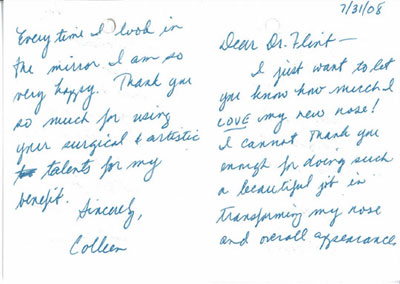 ---
"I had been considering a breast augmentation for many years. As much as I desired the surgery, I had several reservations. I did not want to look operated on, and I wanted an appearance that was proportionate to my small frame and lifestyle.
After debating the pros and cons, I decided to research qualified plastic surgeons. I asked my other doctors for referrals, looked through local periodicals, asked friends if they knew anyone with positive surgical experiences, and read numerous physicians' websites. I selected my favorites and went in for consultations with all of them.
I asked very specific questions that were important to me. I wanted to make sure the physician was board certified in plastic surgery, and not someone who performs cosmetic surgery but is not certified to do so. I thought it was vital to have an experienced plastic surgeon that had been in practice for over ten years. It was also important for me to learn how many cases of my specific surgery the doctor performed annually and over the course of their career, so I could be comfortable with making such a major decision. I did not want to take any risks.
When I met Dr. Flint, I knew that I was in the right qualified hands. She impressed me with her honesty and sincerity. We discussed how my case was unique and what I should expect as a result. I truly felt she listened to my concerns and understood them more than any other plastic surgeon I met with. She promised to make herself available for any further questions I would have, and she delivered on that promise.
It has now been over a year since I had my surgery. Every day when I would get dressed, I used to be uncomfortable with my body. Now the body part that I liked the least has become one of my favorites. Those negative thoughts no longer cross my mind. It has changed my life in such a positive way. My only wish is that I would have made this decision years ago. I would highly recommend Dr. Flint and her superb staff to anyone interested in plastic surgery."
---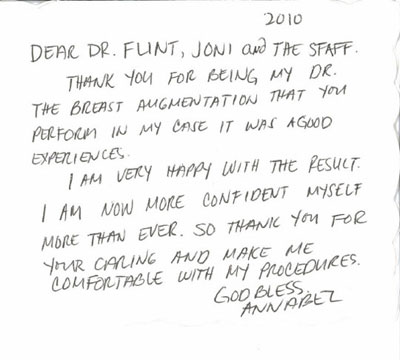 ---
"My decision to have plastic surgery was not an easy one for me. I tend to be a perfectionist, and I was concerned that I could actually look worse rather than better. I had seen pictures of a number of famous people with whom I would not trade places.
I had visited Dr. Flint previously for collagen injections, and though she was naturally my first choice for surgery (should I decide to have it), I was not convinced until I spoke confidentially with her nurse Denise. Her own husband is an orthopedic surgeon, and he spoke very highly of Dr. Flint in the operating room and of her reputation. I also asked friends about other doctors, their methods, and workmanship. I determined that I definitely wanted a surgeon who would keep me in a hospital overnight. In all of my research, I never heard one negative comment regarding Dr. Flint's surgical expertise.
Dr. Flint's honesty and straightforward approach was refreshing. She told me what to expect, how to prepare for surgery, and how to take care of myself after the procedure. We also discussed 'our' goals. I wanted to look rested and refreshed, not startled or surprised. She favored a natural look and I liked that.
Six months following my surgery during my yearly physical, my internist at Mayo Clinic examined my scars, complimented me on my results and said I should be very happy. He was impressed; he wanted to know who had done my work. A year after my procedure, my OB/GYN, of whom I had been a patient for 21 years, was surprised when I told him of my decision. He said that he thought I had just been on an extended vacation. He too examined my scars, looked closely at the surgical sites and was very impressed. He too said I should be really happy. I am.
I honestly can't speak positively enough about the office staff. They make a terrific team, and as a patient, I benefited directly from their patience, their helpful attitude, and most especially, their friendliness. I so appreciate the ambiance in the office; I can always count on it. I consider all of them friends now—a totally unexpected bonus for a plastic surgery procedure!"
---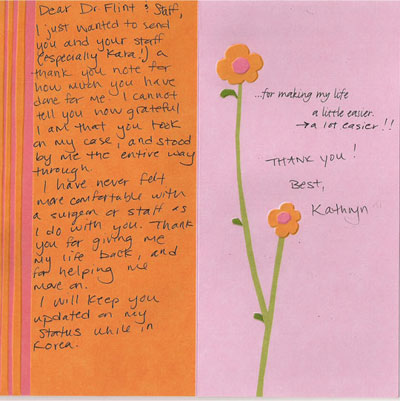 ---
"Dear Doctor Flint,
It has been a year now since I have had plastic surgery that you performed. I would like you to know that I am very pleased with my plastic surgery experience. I feel more confident and more at peace with myself than I ever have. I had a breast augmentation, lift, tummy tuck, and liposuction. I decided to have you as my surgeon after talking to my medical doctors that I have been seeing for years. I had discussed with them that I was going to use you. Every doctor and everyone I knew in the medical field told me that you were an excellent choice. You were very well known and had an excellent reputation. I also have a friend you performed a breast reduction for.
Your office staff was very helpful and caring. They went out of their way to make me feel comfortable with any and all questions I had before, during, and after surgery. I felt I was in the best of care at the Greenbaum Hospital. I felt very relaxed with the anesthesiologist as he listened to my concerns regarding some medications I am allergic to and made me feel at ease with the surgery. I felt very comfortable knowing that you hand-picked these doctors, as they play a very important role in the surgery. Once again because of your reputation, I felt I made the best decision.
If I ever decide to have plastic surgery in the future I will definitely contact you.
Yours truly, Mimi"
---
"I used Dr. Flint for my face and breast surgery. I was new to the Valley. I did quite a bit of research on the 'Net. I spoke with other doctors. I went on a number of interviews. I always asked for a call-back from a former patient. Dr. Flint's patients were the best reference.
I also checked the Phoenix Magazine for the 'Top Docs.'
The office visit before the surgery was concise and to the point. I received all the information. It was all explained by the staff. The staff is WONDERFUL.
After the procedure, I would call the office, and in record time my questions were all answered. I would email Dr. Flint, and in minutes, I had a reply! I could ALWAYS reach Dr. Flint or her staff."